Features and Application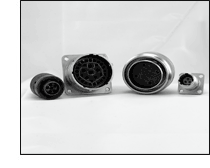 MIL-DTL-83723 Series III family offers connectors with bayonet and threaded coupling including lanyard-release quick-disconnects. These connectors combine the best features of MIL-DTL-26500 and NAS 1599 miniature connector specifications. They are intermateable with both bayonet and threaded 26500 connectors (exception: shell size 8, threaded coupling only) and have the added advantage provided by the
rear-release contact retention system.
AE833 connectors are widely used on commercial, military and aerospace systems requiring general-purpose, miniature cylindrical bayonet or threaded coupling connectors. In addition, Series III threaded connectors with self-locking plugs are well suited for engine applications.
This family of connectors (bayonet as well as threaded) is offered in wall mount receptacles as well as jam nut mounted receptacles which incorporate "O" ring seals, designed for rear panel "D" hole mounting.
Series III bayonet-coupling plugs are available in two designs - with and without RFI grounding. Threaded coupling plugs are offered with and without RFI grounding, self-locking and RFI/self-locking. In addition we offer quick-disconnect
(lanyard release) plugs, which mate with threaded receptacles via an adapter.
Thirty-one insert arrangements per MIL-STD-1554 are tooled and qualified to MIL-DTL-83723 Series III, utilizing 2 to 61 M39029 contacts. Contacts come in sizes 20, 16 and 12, terminating wire sizes from 24 to 12 gauge.
These connectors are available in wide range of shell materials and finishes. Aluminum shells are offered in electroless nickel, olive drab cadmium and black anodic. Other finishes such as zinc cobalt are available upon request to commercial callouts only. In addition, we offer passivated stainless steel shells
with both standard and firewall-rated inserts, and for highly corrosive environments, nickel-aluminum-bronze shells with standard environment-resisting inserts (commercial callouts only).