Features and Application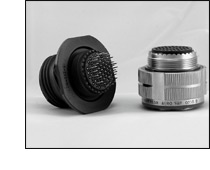 MIL-DTL-38999 Series II connectors feature a bayonet coupling mechanism with lower profile design and rear-removable crimp contact retention system.
These connectors were designed for military and commercial applications where the prime requirements are lower profile and lighter weight.
Reduction of both size and weight were achieved through the use of thinner shell walls and length restrictions. These design restrictions reduced the RFI attenuation characteristics
and the "scoop" protection, while yielding an excellent general purpose, lightweight connector. Compared to Series I, Series II connectors achieve up to 20% reduction in mated pair length, up to 39% reduction in outside diameter and
up to 40% reduction in weight (128 pin mated pair).
This family of connectors is offered in six receptacle-mounting styles. They include square flange receptacles, for both front and rear panel (wall) mounting; square flange receptacles, for both front and rear panel (box) mounting; square flange
receptacle with extended grommet, for front of panel (box) mounting; and jam nut receptacles which incorporate " O" ring seals, designed for rear panel "D" hole mounting.
Plugs are available in two designs, with and without RFI grounding.
Fifty-two insert arrangement per MIL-STD-1560 are tooled and qualified to MIL-DTL-38999 Series II, utilizing 3 to 128 M39029 contacts. Contacts come in sizes 22D, 22M, 22, 20, 16 and 12, terminating wire sizes from 28 to 12 gauge.
These connectors are available in wide range of shell materials and finishes. Aluminum shells are offered in electroless nickel, bright cadmium, anodized, and olive drab cadmium. Other finishes such as zinc cobalt are available upon request
to commercial callouts only. In addition, we offer passivated stainless steel shells with standard environment-resisting inserts (commercial callouts only).