Features and Application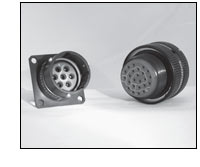 MIL-DTL-26500 family offers connectors with bayonet coupling as well as threaded coupling. These connectors are intermateable with correspondingly coupled MIL-DTL-83723 Series III connectors (except shell size 8, threaded coupling only).
AE66 connectors are widely used on commercial, military and aerospace systems requiring general-purpose, miniature cylindrical bayonet or threaded coupling connectors.
This family (bayonet as well as threaded) of connectors is offered in wall mount receptacles, jam nut mounted receptacles which incorporate O'ring seals, designed for rear panel "D" hole mounting, and straight plugs.
Twenty-one insert arrangements per MIL-STD-1554 are tooled and qualified to MIL-DTL-26500, utilizing 3 to 57 M39029 contacts. Contacts come in sizes 20, 16 and 12, terminating wire sizes from 24 to 12 gauge.
These connectors are only available in aluminum shells with anodic plating to the MS number. In addition, we offer connectors with passivated stainless steel shells to commercial callouts only.